Discover How To Build Your Pecs
Lee Hayward Bodybuilding Coach
If you are wondering how to pump those pecs in order to build them to their fullest potential. You are at the right place at the right time. I will be going over a few methods and techniques that not only I use myself, but that champion and pro bodybuilders use as well. Because after all, that is what we are all striving for right? To develop a massive chest, a massive physique and potentially look like hulk one day. That is my ultimate goal at least.
In the video you see bellow, bodybuilding coach Lee Hayward goes over a few principles that all bodybuilders need to abide by when it comes to training the chest and finding the right techniques and methods in order to increase pectoral mass while at the same time increasing balance between both pecs.
Lee goes over the main causes of the imbalance between the right and left side of the body. One cause can be that due to an individual being right handed, their right part of their body typically becomes the dominant side and vice versa.
This lead to muscular imbalance which can sometimes appear but it is not so noticeable until you get on stage. That's when the real details are shown. I wouldn't really worry about muscle imbalance and would try my best sticking mostly to dumbbells when it comes to certain exercises. Especially the bench press, barbell curls, anything that has to do with a barbell. The reason is because it is hard to tell if both sides of your body are implementing the same amount of work required in order to push that weight up or pull that weight.
My word of advice as well as Lee's is to stick to the dumbbells for the pec building workouts.
Incline Dumbbell Bench Press:
Lee illustrates for us the specific techniques needed in order to maximize the benefits we can get from the workout. As well as the benefit of the dumbbells including both arms to handle an equal workload. And in addition to that you also have more freedom of hand movement while executing the exercise which helps in taking some of the stress off of the shoulder joints. We want to avoid injuries at all costs. Because an injury will have a huge negative impact on your goals. You will go right back to where you started, having to work your way up again to where you were at before the injury occurred.
5 Sets of 10-15 Reps
Your first set should consist of half your working weight and your second should consist of 75% of your working weight. Working your way up to your normal weight, you will then go on to the next three sets using your normal weight.
Incline Dumbbell Flyes:
You will be performing the same amount of sets and reps for these as with the incline dumbbell bench press. The incline dumbbell flyes encourage the chest to have more of a stretch during the exercise movements. Which in turn help your pecs build more mass and become more full due to the stretching aspect of the compound movements.
A secret technique that Lee shares with us is to really focus on the stretch being incorporated by the movement and keep the weights low to moderate. Remember, we don't want any injuries that are going to keep us out of the gym for a couple of months.This is more of a stretching move.
You will notice that when you push the weight up after feeling that stretch in the upper pecs from bringing the weight down, that you get kind of a break and you will not really feel the chest getting worked out by pushing the weight up. We are focusing on the stretching aspect of this movement. It is the technique that is going to lead to massive gains in the long run.
Low Pulley Cable Cross Over Flyes:
Now this is one of those movements that Lee has came up with. Where instead of using the high pully and bringing the arms down. Here you will be doing the opposite using the low pully and bringing the arms up, targeting the upper chest muscles. A little variation here that will lead to allot of successful muscle building. Due to the fact that it might be something you have never heard of before. And much less tried out before.
The Push-Up:
The most basic and simple movement that we should all be more than acquainted with. Yet most seem to or seek to overlook it. The fact is that the push up is by far the best exercise one can implement for building the pectoral muscles as well as the shoulder and arms.
Lee's favorite as well as one of my favorite  chest builder. It is a great way to finish off this workout by really getting a pump in the pecs. Lee advises to try to get in 100 total reps, which is what he does.
Either get them in by repping them out on the first set or do multiple sets with the reps increasing up to the 100 mark. You will experience a great pump in the chest and you will really feel that workout blasting your pectorals.
In conclusion, I want to thank you for visiting and reading my post, hope it has been of some help to you. I would like to hear from you so please give me some feed back, comment, like, share with your social networks.
Check out Lee Hayward's Blast Your Biceps Program to learn more in depth on how to not only build your pecs but all muscles as a whole. Click the book below.
Posted in Pectoral Pump | 1 Comment
Building Muscle Mass:
Building muscle mass can be quite a challenge at some point in time during your bodybuilding journey. It's going to happen sooner or later no matter how good someone's genes can be. In order to keep reaping the benefits of your workouts you have to be switching things up every month or two. By switching things up I mean finding different workout routines to increase your muscle mass.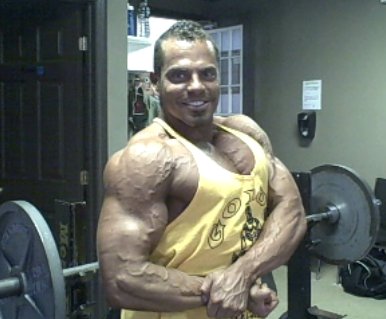 Lee Hayward
If you stay performing the same workouts month after month, the body starts to get used to it and begins to lower the muscle building rate at which it was at. When you build your pecs, you have to hit them from every different angle possible. To really pump up the pecs thus helping you build more mass from those workouts.
I will lay out a few training routines to help you build your pecs as well as muscle mass within the pectorals below. It is specifically a routine designed for complete pectoral development.
Click Here For a Free Video by Lee on How To Increase Your Muscle Mass Fast
Training The Chest Muscles:
There is two basic type of movements for the chest: Flys, in which the extended arms are drawn together across the chest in a kind of hugging motion; also Presses, where the weight is pressed upward off the chest with the front deltoids and triceps in addition to the primary effort from the pectorals being involved in the movement as well. The basic bench press performed with a barbell on a flat bench, the all time favorite workout of every bodybuilder as well as one of the three movements used in powerlifting. When performing the bench presses correctly using the proper grip and getting the fullest range of motion possible, you will be able to develop the overall mass of the chest.
However when changing the angle of the bench press, you target different muscles in the upper chest and front deltoids by doing it on the incline bench. Including incline presses from the beginning of your program is the smartest thing to do so that you don't come to find out later that your upper pecs are underdeveloped relative to the middle and lower portions of your chest. In addition, performing allot of incline presses will help create that split between upper and lower chest that is impressive in most muscular poses.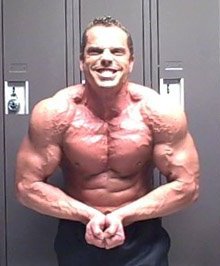 The same as training any other muscle or muscle groups, the greater the range of motion you get in the chest exercises, the more intensity the muscle contraction you accomplish. Ultimately leading to the maximum amount of muscle growth. Its all about concentrating on the range of motion your getting from the exercise. As well as the contraction. Make sure you feel the muscle contracting and stretching while you are performing the workout.
The Mind and Muscle Connection:
It is very important that when you are working out you stay focused on the task at hand and leave all other distractions for later. I know how tough it can be when there's a beautiful girl in the gym and you can't help but look her way. The focus should be on the task at hand and your mind connection with your muscle while you are working out those muscles. It has been proven that when one concentrates and connects with the muscle with the mind, its a totally different experience. You will hear about this technique with every pro bodybuilder out there. They will tell you the same. So stay connected mentally with your muscles during your workout. Imagine them being the size you desire. Focus on the contraction and stretch. And you will get there faster.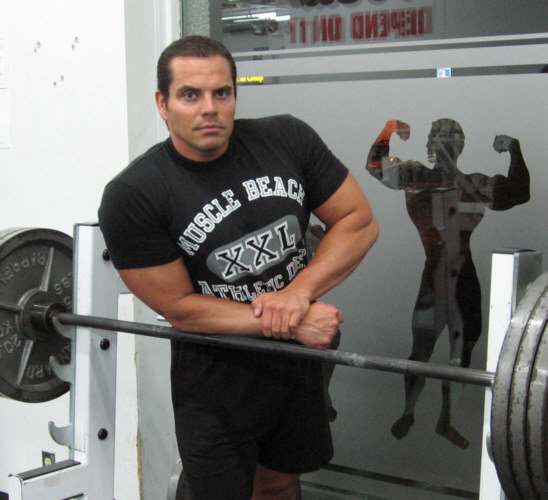 Training Program For Chest:
Upper Pectorals:
Incline Presses with a barbell or dumbbells or Smith machine
Decline Flys
Lower Pectorals:
Decline Presses with a barbell, dumbbells or machines
Dips
Decline Flys
Cable Flys
Inner Chest:
Cable Crossovers
Presses or Flys holding the contraction at the top for several seconds
Bench Presses done with narrow grip
Outer Chest:
Dumbbell Flys concentrating on full stretch and lower range of motion
Dips
Incline Presses and Bench Presses done with a wide grip and lower three- quarter movement
Dumbbell Flys
Dumbbell Bench Presses stretching at the bottom, coming up only three-quarters of the way not letting dumbbells touch
Incline Presses with bar
Rib Cage:
Dumbbell and Barbell Pullovers
Posted in How To Build Your Pecs | No Comments
Who is Lee Hayward?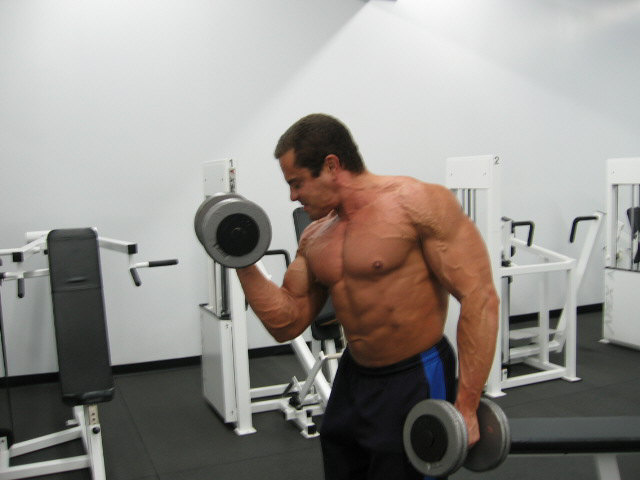 Lee Hayward has been coaching hundreds of bodybuilders around the world, male and female alike. Lee is currently living in Newfoundland, Canada. He began working out in 1990 and started competing in bodybuilding in 1995. He was inspired by Arnold Schwarzenegger's physique due to the size and comic book like appearance of it. Lee was determined to reach his bodybuilding goals and someday look like that himself. It all Started with his York 2001 training machine he received as a gift from his parents on one Christmas day morning in 1990.
He spent hours working out in his home gym along with his dad who helped him stay motivated due to his activeness. Lee Became infatuated with the sport and the details surrounding it. He loved to record bodybuilding competitions and replay them over and over. As well as read every fitness and bodybuilding magazine he could get his hands on. He would spend his time reading books on bodybuilding and nutrition as well from the library. During his last year in high school he entered his first bodybuilding contest, the 1995 Newfoundland Provincials, at 17 years of age. Since then he has competed almost every year in bodybuilding competitions.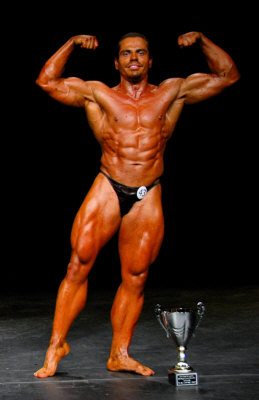 Picture From The 2006 Atlantic Classic Bodybuilding Championships
After graduating from high school he went on to computer studies program in college. This is where his interest in computers and the internet arose from. After learning how to use it and what he could accomplish with it, he decided to create his own website and his own bodybuilding programs as well. To help other bodybuilders and fitness enthusiasts reach their potential goals no matter what their struggles.
Weight Training With Lee:
Lee Hayward has a number of training and nutrition programs that can help you achieve what you believe you can achieve and even what you think you can't achieve. It amazes me how Lee has had such a great impact on many people's lives in regards to their fitness and bodybuilding goals. Many people admire him and his work. He hosts a weekly bodybuilding talk show online where he conducts a Q&A type session with his followers or new comers as well. He answers each and every question with the utmost clarity and preciseness so that the person who asked knows exactly what it is their doing wrong or whatever the case may be with regards to the question.
These sessions alone are worth hundreds of dollars, yet Lee provides his service for free. Over the years of following Lee Hayward and seeing his work. I truly believe in him and his products, his work is nothing but quality and he shows that he really does care about the people. He works hard for people around the world to get their questions and concerns answered, thus helping them to ultimately build muscle or lose fat. Whatever the case may be with the individual that Lee is answering the question for.
My above opinions that have been laid out here in this post are the main reasons why I recommend Lee and his products. He doesn't try to get into your wallet all the time like other supposed "bodybuilding coaches" out there on the web today. He delivers to you nothing but quality for a very small amount of money compared to other programs and people out there online offering you the same but for less quality and MORE money.
Build your pecs and build muscle mass with Lee Hayward's bodybuilding techniques that have been proven to work even with the hardest of hard gainers around the world.
I hope my post has been of great help to you, and if so please be sociable and share it with your friends on your social network below. Thank you.
Posted in Mucle Building With Lee | 3 Comments